Branch Blog - Lethbridge, Alberta
Thu, October 28, 2010 • Magical Sketchy Hour
This was overheard from our Magician Model:
Russian Roulette with a broken bottle and paper bags, floating masks, swallowing and regurgitating razors, producing silks...got a lot of things up my sleeve for Dr. Sketchys... Assisted by the lovely and talented Roberto Cannessa, Mistress of Mystery... classy and sassy...
Today, the Lethbridge Branch is getting all Mysteriouso and Magickally with Frater Tham and his assistant, Roberto. We have teamed up with the Southern Alberta Art Gallery as part of their Happy Hour series to bring you this incredible act for your viewing and drawing pleasure. If you are a member of the SAAG, admission is free, non-members $5! A total steal! We'll have our usual drawing contests and prizes. Also, there is a cash bar and extra drawing supplies if you are coming straight from work. Doors open at 5pm. Drawing at 6pm.
We are the first Happy Hour event in the newly renovated SAAG building - 601 Third Ave South, Lethbridge, AB! Come check out the new space as well as partaking in the cash bar and a little drawing.
RSS
NYC Events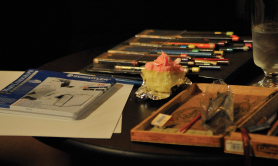 Art Tumblr
Dr Sketchy's LA 12/3/13 (pt. 1)
artofach.blogspot.com
http://drsketchy.tumblr.com/post/69132640329