Branch Blog - Akron, Ohio
Thu, December 20, 2012 • Mayan Princess for the End Of The World!
What better way to celebrate the End of Modern Civilization than with a Mayan themed Dr. Sketchy??
We had a blast at Dr. Sketchy Akron with the amazing Mayan Princess Moy Moy!
Enloy your 12-21-12!!
Check out more photo's at drsketchy.com/branch/Akron and at our facebook
RSS
NYC Events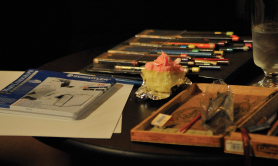 Art Tumblr
https://vimeo.com/81362468