Branch Blog - Dublin, Ireland
Wed, November 09, 2011 • November Session and Change of Venue
PLEASE NOTE CHANGE OF VENUE!
DUE TO FLOOD DAMAGE OUR NOVEMBER SESSION WILL TAKE PLACE UPSTAIRS IN SWEENEYS OF DAME STREET (Formerly Le Cirk):
http://www.sweeneysdublin.com/
Our last session of the year, we'll be kicking off the festive season with 'A Black & White Christmas' theme.
- Featuring -
Epiphany DeMeanour
Foxy P Cox
Beautiful models, festive performances, booze, prizes and much more!
RSS
NYC Events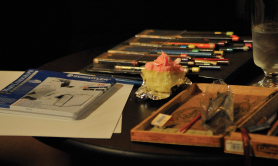 Art Tumblr
Dr Sketchy's LA 12/3/13 (pt. 1)
artofach.blogspot.com
http://drsketchy.tumblr.com/post/69132640329