Branch Blog - North Wales
Wed, April 11, 2012 • Off to the seaside!
Dr. Sketchy's North Wales is taking a trip up Norf! A drive up the coast to the pretty seaside resort of Morecambe Bay on the Sunny Lancashire Coast. Once a hotspot for British holiday makers, the destination offered music hall magic and variety entertainment that is now being revived and relived at the hands of Goldust, epic event organisers extraordinaire!
The first ever Morecambe Variety Festival will be taking place May Bank Holiday weekend at The Winter Gardens.
The Winter Gardens first opened in 1897 as The Victoria Pavilion theatre Dating from 1878, the original complex included seawater baths, bars and a ballroom. In the 1950s, the Winter Gardens were taken over by Moss Empires, however declining profits in the following decades led to its closure in 1977. Although the theatre building that remains today was listed the same year, the ballroom building was demolished in 1982.
Its faded glamour still holds so much appeal we can't wait to get stuck in, in this my dream art studio, steeped in so much charm, it would be impossible not to be inspired by the echoes and whispers of performances past.
There will be a dazzling amount of things to do, see and experience over the Festival weekend. Think cabaret, variety, circus and sideshow culminating in a King Neptune's Ball on Saturday night from 8pm.
Its going to be a real celebration of the area, the arts, vintage cabaret as well as showcasing some of the very best international burlesque vaudeville and cabaret artists on the scene today.
Headliners include: Vicky Butterfly, Emmanuelle Clare, Juggler Rod Laver, Sword Swallower Bendini, Live contortion and side show, Circus from Frayed Knot, Chinese pole gymnastics from Ed Muir, Dr Diabalo and his side show Sea Beasts pre show Carnival parade!!
Dr. Sketchy's Anti-Art School joins the 1st ever Morecambe Variety Festival at Winter Gardens, May Bank Holiday - Saturday from 3pm!
Sharpen those pencils and dust off your chalks as you get set for a life drawing class like no other! Dr. Sketchy's Anti-Art School was set up to encourage everyone to the world of drawing and sketching, whatever skill level they're at.There will be a variety of poses and lengths in which to draw, along with some fun challenges!
And who do our lucky classmates get to draw? Well, we've been fortunate to capture Morecambes very own Mermaid!!
Not ONLY that but we will have "Serpentina" a beautiful seductress of serpent style belly dancing to pose for you pencils.
This will be just a 1 hour taster session!
At our usual events you can expect to see burlesque performances, cheeky poses, plenty of sketching challenges, ear popping music, prizes and all within a good few feet of the bar!
Now REMEMBER you don't have to be a superstar artist to enroll in a class ~ its truly open to all and the perfect night out for folks who are 'I can't draw-ers', the 'not surers' and 'cult explorers'....
You don't need to bring a thing! Paper and pencils are provided. But if you prefer to bring your own materials, please make sure wet media aren't any more messy than a neat watercolour set.
This event is FREE and open to all ages!
If you'd like to know more about our classes visit www.drsketchynorthwales.co.uk
Please do invite your friends to our page www.facebook.com/drsketchynorthwalesandchester
Event details for this particular event can be found here: Dr. Sketchy's At Morecambe Variety Festival
**************
Stalls, Winter Gardens, Morecambe from 3pm.
I've booked the 'Sunset Suite' at a local Guest House and bags are packed!
I'm thrilled to be taking Dr. Sketchy's Anti-Art School & some select Extinct Design vintage items to this delightful seaside resort - reliving its past splendour and imprinting some memories of our own!
Visit Morecambe Variety Festival blog for some chat on the events, vintage clothing and Morecambe in times gone by!
RSS
NYC Events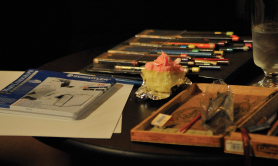 Art Tumblr