Branch Blog - Jacksonville, FL
Tue, May 03, 2011 • Oh, man! Who knew this would happen?
ArtMonkeys! We are bowled over by the rabid support you give us! We started back in November 2009 with one event a month. That wasn't enough for you! We've toured through the urban core, dragging our particular brand of sparkle to bars, graffiti gardens, and that famous recording studio. That didn't suit you! We doubled our monthly events up last September. That didn't please you! We've moved into a larger and lovely showbar with all those drink choices! You still grumbled for more! So, to keep you satisfied, we have doubled up our bread and circuses for the next two months! -We're going to be putting the 'WORK' in networking at AIGA Jacksonville on May 12th at Walker's Wine Bar in the King Street district. -We have been invited to participate in Fringe On The Rocks 2011, Jacksonville's very first fringe festival hosted by Players-By-The-Sea! We' will be presenting a theatrical experience that combines the event you love with a hardly exaggerated story of Jacksonville's most famous madam, Cora Crane on the day of the Great Jacksonville Fire. All evidence shows that Ms. Crane was out of the country on May 3, 1901, but we've found some evidence that proves otherwise! Look for us two weekends in early June! -In addition to these awesome events, we are doing our regular two diversions a month at Club Shadows at Metro Entertainment Complex! And don't expect us to slow down after that!
RSS
NYC Events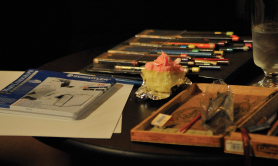 Art Tumblr
Dr Sketchy LA 12-3-13
http://drsketchy.tumblr.com/post/69027079376