Wed, October 09, 2013 • OLD HOLLYWOOD at Dr.Sketchy's Bristol
WE LOVE BRISTOL and Bristol is showing us nothing but love!
Dr. Sketchy's Old Hollywood was just 'fabulous darlings' and a damn fine follow up session after our epic sell out launch party.
Bringing the artist nothing but sass and class our retro style models really did bring the theatre to the sketchy's session.
DJ Hammonds entertained our room with French, obscure cinema music and sipped on his cider. Our hostess Lou-Leigh Blue took to the platform with ease and sporting her 'old look' of bright red hair welcomed all to our art school. Introducing the session, it's sponsors Bristol Burlesque festival, Shhh! Burlesque and Get Pampered! Until there was nothing to be said and our artist we're thrown into the magical world of Old Hollywood.
'Putting on the Ritz' Lord Screaming Keating the cheeky little fella took to the platform complete in top hat, tail and those 'oh so familiar' tapping shoes and stuck some powerful poses- as our first male model he did not disappoint...ooh and those sock suspenders swit swoo.
Next up Bristol's very own Pink Kitten Dance School coordinator, Pole expect and circus school trained Tabitha Tease.
In a cheeky Charleston number, Ms Tease shimmied out wearinga black flapper dress and proceeded to transfix our audience with her ultra bendy poses and ending her session with jaws hitting the floor as she posed to a full splits.
And finally but by no means least we had Award winning, Pin-Up UK Ambassador, porcelain diva Lady Lolly Rouge.
Feather and diamonds with a 1940's twist, Ms Rouge pulled out all the stops with her pin-up image and glamorous poses. Tantalising and titillating our artists she performed her powder puff routine and left behind her a cloud of mystic really showing proof that three puffs are better than one
We really cannot wait to see the images that people created at this event on-line as the standard was just amazing!
RSS
NYC Events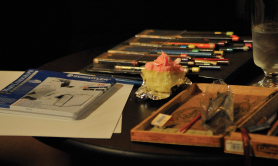 Art Tumblr
Dr Sketchy's LA 12/3/13 (pt. 1)
artofach.blogspot.com
http://drsketchy.tumblr.com/post/69132640329