Branch Blog - Salt Lake City, UT
Tue, August 16, 2011 • Our Belly Dancing Bonanza was BOMBASTIC!
Our sixth event here in the SLC was a smashing success! We featured models Annie Defae and Meg Hinds of local belly-dancing troope "
Blue Lotus Collaborative
"... and they were absolutely stunning! Don't believe my hype? Check out this ten-minute pose:
Yep, pretty much the most impressive pose in the history of Dr. Sketchy's (not to mention that bangin' bod!) See all the pics
here
...
RSS
NYC Events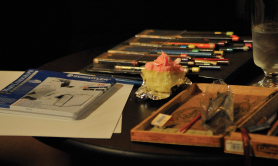 Art Tumblr
Dr Sketchy's LA 12/3/13 (pt. 1)
artofach.blogspot.com
http://drsketchy.tumblr.com/post/69132640329