Branch Blog - Charleston, West Virginia
Tue, October 11, 2011 • Our Most Algebraic Session Yet
Our September session, featured the Molly Tilly, Lavender Menace, and Lita Lane as Finn, Bubblegum, and Marceline. The Kanawha Player's Rehearsal hall was turned into the land of Ooo for our tribute to Adventure Time. Prizes were provided by an anonymous donor. Check out more photos at in the event gallery!
Molly Tilly as Finn.
Lavender Menace as Princess Bubblegum and Lita Lavender as Marceline the Vampire Queen.
There you go Bubbleline shippers.
Then Finn gets dragged into it. This was a contest pose for the continous drawing.
Beemo watched.
Winner of the continuous drawing took home a Princess Bubblegum keychain.
The second contest of the night was a Princess Tea Party. The contestants were too add a princess of their own to this party.
Princess Hipster took home an Adventure Time print.
So did Princess Peach.
Our final contest of the night was to switch the genders of the models in honor of the Fionna and Cake episode.
Manly Time.
And this sketch took home an Adventure Time print signed by Pendleton Ward!
I'd like to thank everyone who came out to draw with us. Thanks to Kanawha Player's for hosting us and to our anonymous donor giving us the Adventure Time prizes! Also thank you Glen and Robert! I hope to see everyone again on October 16th for our zombie Halloween special!
RSS
NYC Events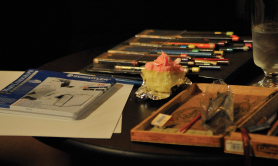 Art Tumblr
Dr Sketchy's LA 12/3/13 (pt. 1)
artofach.blogspot.com
http://drsketchy.tumblr.com/post/69132640329