Branch Blog - Christchurch, New Zealand
Thu, August 09, 2012 • Paperback Writher
Our literary themed session was a best seller, with art monkeys and literary buffs alike clamouring to see Brigitte de Brief take up the mantle of Sketchy muse. It was a night of prose, pose and pervalicious poetry that is definitely one for the books!
Brigitte de Brief, in whiskey-swigging-author-attire, had us hooked from the word go! We couldn't wait for her story to undress.. I mean, unfold.
For her first performance, Brigitte channeled every creative person who's taken to consulting the spirits after doing battle with a typewriter...
Whiskey, words and sayng no to pants - she's definitely one of us!
Birgitte sauntered between elegant sophisticate and paper-back writher so smoothly!
You can't spell literature without T&A!
Kimberly Holmes - our performance poet of choice - provided us with some lewd and lasvicious verse after the break. Her ode to the breakfast of champions left even Tawdry blushing!
Our haiku competition was a hit! There was a haiku lamenting the loss of 70's porno, a haiku re-incarnated as a non-conformist limmerick and seventeen syllables dedicated to Tawdry's... assets...
The winning haiku was written by Lily:
Swollen and sunken
Deep in the dark typewriter
Tap moan tap tap moan
With a special runner-up prize to Julia:
Little Bitty Briefs
Falling down around her feet
Oh naughty Tawdry.
Rosie Reckless calls upon our best dressed nominees. There were a pair of Sifty Shades of Grey(power), a very bookish boy in tweed, a very minxy Girl with a Dragon Tattoo and a witchy-poo muse to Edgar Allen Poe.Our art monkeys - so cultured!
Plato made a cameo; though it must have been hard to philosophise while book-ended by such bawdy beauties!
All pages turned to cooling-fans after Brigitte's second performance left us swooning!
A masterpiece from all angles.
No literary theme is complete without some Shakespearian drama. A pose to die for.
Books, boobs and burlesque! Poetry, prose and poses! All in all an alliteration saturated evening that left us wanting another dose of Brigitte - bring on the next chapter!
Many thanks to our ever awesome sponsors (get on down and bookmark their webpages!): Absolution Pierce and Tattoo, Madam Butterfly's Vintage Style Boutique, Gordon Harris Art Supplies and our international sponsor Baby Tattoo Books. To see more of our antics from the night, check out our facebook album!
We'll leave you with one last treat - a haiku by the Amy:
Spread your pages wide
So we can appreciate
your sweet tender prose
RSS
NYC Events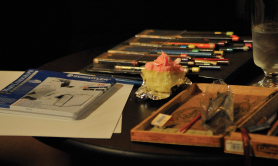 Art Tumblr
Dr Sketchy's LA 12/3/13 (pt. 1)
artofach.blogspot.com
http://drsketchy.tumblr.com/post/69132640329