Thu, August 01, 2013 • Philadelphia Draw a -Thon and Dr.Sketchy present "Seize the Cape!"
What is the Philly Draw-a-thon all about?
The Philadelphia Draw-a-thon was founded in 2012 by an artistic group of do-gooders.Working in conjunction with Child's Play Charity, the goal of our events is to give artists an opportunity to use their talents to give back to the community and bring smiles to the faces of young kids. All of the money raised at our events is used to purchase toys and games for kids undergoing long term hospital stays at the Children's Hospital of Phila.
This year the Philly Draw-a-thon teams up with Dr. Sketchy's Philadelphia and Arch Enemy Arts + Gallery ML to bring you "Seize the Cape!" An evening of Super Heroes and Villains for a great cause!
The fun starts at 5:00 pm and goes 'till 8:00 August 18th at Arch Enemy Arts + Gallery ML, 109-111 Arch Street-Philadelphia, PA 19106.
Regular admission - $15, Students with I.D.-$12, Observer-$8
*Admission comes with one free drink ticket.
"Seize the Cape!: An evening of Superheroes and Villains" is sponsored by:
Pinups and Pitbulls, Comic Station, Dr, Sketchy's Philadelphia, and Arch Enemy Arts+Gallery ML
RSS
NYC Events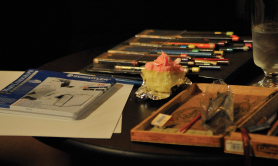 Art Tumblr
Dr Sketchy's LA 12/3/13 (pt. 1)
artofach.blogspot.com
http://drsketchy.tumblr.com/post/69132640329