Sat, March 05, 2011 • PIN-UP: L'Exposition !
La Gallery Paris-Montreal et Maly Siri présentent : PIN-UP: L'Exposition ! "Glamour...Toujours!"
Plus d'une soixantaine d'artistes de tous horizons tous plus talentueux les uns que les autres se livrent avec délice à l'exercice de rendre à leur manière les courbes féminines, avec une inspiration "vintage" (des années 20 à 60), terme à la mode ces derniers temps, à l'instar du retour en force des porte-jarretelles et du Burlesque. L'ambassadrice de l'exposition:
Maly Siri
, elle-même dessinatrice de pin-ups, entre autres. Il faut dire que la liste de ses artistes invités fait rêver : vous pourrez admirer des originaux de
Dean Yeagle
,
Juanjo Guarnido
,
Cameron Stewart
,
Olivier Vatine
,
Philippe Berthet
,
Carlos Nine
,
Jean Mulatier
,
Arthur de Pins
,
Benjamin Lacombe
,
Jean-Sébastien Rossbach
et encore tant d'autres merveilleux artistes issu de la BD et de l'Illustration ! L'exposition se fera en trois parties :
Grand Burlesque Show of Montreal
– du 10 au 12 mars Club Soda, 1225, boul. St-Laurent, Montréal
La Gallery Paris
– du 28 avril au 12 mai 14 rue Charles V, dans le 4e arr, metro St Paul (vernissage le 28 avril de 17h à 21h)
La Gallery Montreal
– du 21 mai au 4 juin à annoncer, rue St-Denis Les originaux seront mis en vente lors de l'expo et en réservation sur le site de
La Gallery.ca
***
La Gallery Paris-Montreal and Maly Siri present : PIN-UP: L'Exposition ! "Glamour...Toujours!"
Over sixty artists from various fields, each more talented than the next, delightfully render the female curve their way with a vintage-inspired touch (from the 20s to 60s), very fashionable these days with the grand return of garter belts and the Burlesque movement The exposition's ambassador:
Maly Siri
, herself a pin-up artist, amongst other things. The list of guest artists is a real treat: you will be able to admire originals by
Dean Yeagle
,
Juanjo Guarnido
,
Cameron Stewart
,
Olivier Vatine
,
Philippe Berthet
,
Carlos Nine
,
Jean Mulatier
,
Arthur de Pins
,
Benjamin Lacombe
,
Jean-Sébastien Rossbach
and many more wonderful artists from the worlds of comics and illustration! The exposition will be presented in three parts:
Grand Burlesque Show of Montreal
– from March 10 to 12 Club Soda, 1225 St-Laurent Blvd., Montreal
La Gallery Paris
– from April 28 to May 12 14 Charles V Street, 4th arr, metro St Paul (vernissage on April 28 from 5pm to 9pm )
La Gallery Montreal
– from May 21 to June 4 to be announced, St-Denis Street The originals will be put up for sale during the expo and reserved on the website of
La Gallery.ca
RSS
NYC Events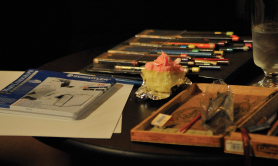 Art Tumblr
https://vimeo.com/81362468