Branch Blog - Baltimore, MD
Sun, April 10, 2011 • Pretty in Pink
Well, according to comments made during and after our session with the
Junkyard Dolls
roller derby team, it was the best session we've ever done.  I'm not saying it WAS, mind you---all I need is every past Dr. Sketchy's Baltimore model showing up at our apartment with a brickbat---I'm just saying SOME people are SAYING that. Everybody has their favorite sessions, whether it's the zombie session, Tony Apollo's, that session where we just had a very angry hedgehog taped to a barstool for three hours---let's face it, there've been some really great moments. This, THIS, was one of them. Alexis and I are always a little nervous when new folks pose, but this time?  Not so much.  They had plans---I mean, like, intricate, coordinated-posing plans. It was almost as if they had trained to act as a team in stressful situations. Let's get crackin' with the one- and two-minutes poses.
Adrenaline Junkie
Doris Day of Reckoning

Chris Reuther
Trixy Le Doom

Chris Reuther
"Best Non-Dominant Appendage Drawing"
for here on out.
I am not saying that on stage.  For now on it's, "Oh just fucking switch hands already!  Jesus-fucking-Christ!" contest.  --Alexis
The two winners received a mystery concoction from our friendly neighborhood bartender, Russell.
Smearin' Off Ice
The remaining 5-minute poses.
Quickshot Kitty
Trixy Le Doom
Smearin' Off Ice & Adrenaline Junkie
Booty
by Anne Thalheimer from
Atomic Books
in Hampden, or a package of Prismacolor color pencils from
Artist & Craftsman Supply
just down the street.

Quickshot Kitty & Doris Day of Reckoning
Kelly O'ShankU, Quickshot Kitty, Adrenaline Junkie, Smearin' Off Ice, & Trixy Le Doom
Adrenaline Junkie & Smearin' Off Ice

Chris Reuther
Oh, what was that?  You want to know when the Junkyard Dolls play next?  That's what I thought I heard you say.  You know, through my computer screen.  My, umm, time-traveling computer screen that will, uh, communicate your desires when you read this post three days after I've written it. Their next bout
is June 18
. Also, did you notice Smearin' Off Ice's awesome monster bra? Check out
She's So Pretty!
if you want one of your own. The last 20-minute pose of the evening's contest was the best incorporation of an actual junkyard with the winner receiving either a pair of tights from
What Katie Did
or Ragnar's
Izzy's Very Important Job
from
Baby Tattoo Books
.
Trixy Le Doom, Kelly O'ShankU, Doris Day of Reckoning, & Quickshot Kitty

Chris Reuther
Yowsa, what a night. I'd like to thank the Junkyard Dolls roller-derby team for one of the best sessions we've ever had; our generous sponsors Atomic Books, Artist & Craftsman Supply, Baby Tattoo Books, and What Katie Did; Russell of the Windup Space for the fantastic venue and for slinging booze and music; Jeff for rocking the photos; and Alexis for MC-ing the whole shebang. Next Dr. Sketchy's is Monday, April 11, with
Team Atomic
to benefit
Moveable Feast
!  All the tickets and tips go to charity!  You get to do a good deed AND draw AND have a beer.  Life doesn't get much better than that.
RSS
NYC Events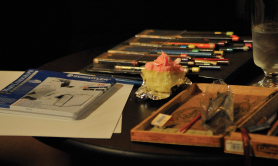 Art Tumblr
Sister Mary Willow
Dr Sketchy's Auckland 03/12/13
http://nomadshotline.tumblr.com/
http://drsketchy.tumblr.com/post/68974877262