Fri, March 25, 2011 • Reverse Mermaids are Real!
We did it! We brought Molly Crabapple's Reverse Mermaid to life during SXSW in Austin, Texas. Burlesque performers Crimson Skye (London) and Sassy De Lure (Seattle) modeled costume sculptures created by artist Aaron Flynn (Austin) and a pink wig by Coco Coquette. Artists at the session had the rare chance to sketch models wearing unique sculptures at the fabulous Swan Dive. Photos of the evening by Nathan Black, John Adams, and Angeliska Polacheck.
The Models:
Amelia Raley (as a Bawdy Bewigged Crabapple character!) was more mobile, and posed for the warm-up sketches.
Sassy De Lure as the Reverse Mermaid
Crimson Skye as the mermaid. Crimson flew all the way from London!
Molly Crabapple, founder of Dr. Sketchy's Anti-Art School, was the guest of honor.
Angeliska's mermaid eyes!
Some amazing drawings emerged from the evening:
Our Emcee, Nathan Black, and the Reverse Mermaid, Sassy De Lure.
Amelia, the ATX Branch Coordinator, with founder of Dr. Sketchy's Anti-Art School, Molly Crabapple.
RSS
NYC Events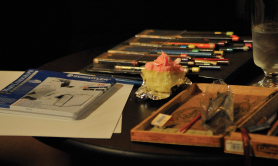 Art Tumblr
Dr Sketchy's LA 12/3/13 (pt. 1)
artofach.blogspot.com
http://drsketchy.tumblr.com/post/69132640329