Branch Blog - North Wales
Tue, September 18, 2012 • ROLL don't run from the ~ Derby INVASION!
OMG! This is going to be one of our BIGGEST class EVER! Hundreds, literally* hundreds of models will roll their way into the Scala Cinema & Arts Centre, Prestatyn on Thursday 20th September, to grr, pose, n play as you guys get to draw them all in a drunken stupor. If you've not been to a Dr. Sketchy's Anti-Art School Class before then WTF? No really. You've missed out big :/ Its a chance to doodle, sketch n draw stunning models from the world of burlesque, circus and variety all in the atmosphere of friendly frivoless banter with ne'er a whiff of judgeyness. Moi, Madame Ex (you may call me 'Mistress') will ease you gently into some quick sketches followed by a session of longer poses. If you'd like to buy ticket click on the buttons below to be transported to another realm!
*Not literally - but there will be lots. I LOVE it when you come and say Hi on the
Facebook page
Heres the event listing too:
Dr. SKetchy's North Wales & Chester ~ Roller Derby Event
RSS
NYC Events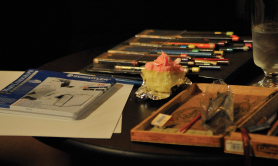 Art Tumblr
Dr Sketchy LA 12-3-13
http://drsketchy.tumblr.com/post/69027079376