Mon, March 07, 2011 • "Salon Session" No.1 - Artwork online!
Oh, what a cozy and inspiring evening that was... thanks to our sparkling model
MISS JULIETTA LA DOLL
and to everyone, who found his way down to Neukölln and shared this experience with us. Oh! And of course a big round of applause to
HELD VODKA
, our beloved sponsor, for his generous support.
Part of the concept was a strict "No Photo" policy. So there aren't any pictures of Julietta or the audience.
But I uploaded some snapshots of the artwork on our Flickr site
. Enjoy!
RSS
NYC Events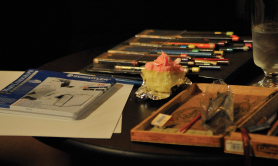 Art Tumblr
https://vimeo.com/81362468