Branch Blog - Charleston, West Virginia
Wed, October 19, 2011 • See us at Charcon!
We're going to be hosting a Steampunk themed session at Charcon, Charleston's gaming convention this Saturday at 9:00 pm to 11:00 pm. We've worked it out with the convention so people not attending the con can attend at the same cost of normal session ($5 cover + $5 visitor pass = $10). Attendees of the convention can get in for $5. 18+ to draw. 21+ to bring things back from the bar. Featuring models Sarkany and Suzy Sketchman.
RSS
NYC Events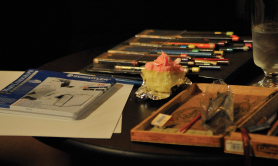 Art Tumblr
Dr Sketchy's LA 12/3/13 (pt. 1)
artofach.blogspot.com
http://drsketchy.tumblr.com/post/69132640329