Tue, May 10, 2011 • Session No.15 / Pictures online!
We finally uploaded the pics of our last session. You'll find them in the
photo gallery of our website
. Enjoy!
© Nina Zimmermann
http://www.ninazimmermann.com
And because we had so many great drawings this time, I uploaded ALL of them in a seperate folder on our
Flickr account
. Thanks again to Tallulah Freeway, Mother Theresa and DJ Ufo Hawaii for making this one hell of an afternoon!
RSS
NYC Events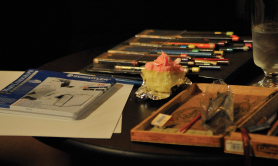 Art Tumblr
Dr Sketchy LA 12-3-13
http://drsketchy.tumblr.com/post/69027079376