Branch Blog - North Wales
Tue, May 31, 2011 • Sexy Sketching Sideshow Circus* + MBNA Chestival Vaudeville Weekend
Roll Up! Roll Up! Come one, come all, (that is if you are over 18 and absolutely fabulous, silly or have a unique party trick you're dying to share) for the Sketchy Circus is in town with sights to dazzle and delight! Another night of sexy sketching, performances, prizes, drinking all in the name of Art! Well, Anti-Art. ...Whatever your (you think) sketching skill level is –this night is for you! You'll be set tasks and fun games all under the Big Top that is Saronies Bar at The Scala Cinema & Arts Centre, Prestatyn. Who'll be there? Prism 'The Fallen Acrobat' – our ever changing goddess of disguise. Velma Von Bon Bon – Yep, that's right you KNOW the one. We can't wait either & Mr Improbable - Our Amazing strong act! Be prepared to be said amazed. Tickets are £8.50 (advanced from the Dr. Sketchy's North Wales website) £10.00 on the door.
www.drsketchynorthwales.co.uk
Join us on
FACEBOOK
Thursday 16th June doors open: 7:00pm *drawing pencils, paper and boards will be provided if you don't already have a favourite stash that you can bring along* Dressing up for a Dr. Sketchy Anti-Art School event is muchos fun! From anything like an oversized bow tie to balloon trousers – one night to get C-RAZY! *********************************************** Like that's not enough to set your summer off to a swing the first ever MBNA Chestival Vaudeville Weekend kicks off the ever next day! In collaboration with MBNA, Goldust and Chestival - Chester will behold such sights never seen!
Its a WHOLE Weekend of Cabaret, Burlesque and the Bizarre... Friday night will be the jewel in the crown at
Chesters Guild Hall
off Watergate street. Excitment is mounting as Amber Ray - The New York starlet will be performing amongst contortionists, songstresses, lady bugs and insect circus in Goldusts
"Kabinet of Curiosities
" Dr. Sketchy's Anti-Art School North Wales & Chester has been given an extra reduced ticket special table for the event! How thrilling! So if you would like to party with us on the Friday night - let me know by dropping me a line to
[email protected]
or on 07970855289 Events throughout the day on Saturday and Sunday, with a whole host that are free, kid friendly too! To find out the full listings and info check out
www.ChesterFestivals.co.uk
RSS
NYC Events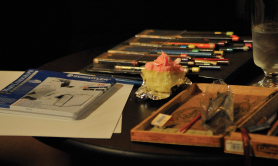 Art Tumblr
https://vimeo.com/81362468