Branch Blog - North Wales
Sun, August 07, 2011 • Sexy Sketching Sideshow Circus* Antics!
Sometimes its a case of life imatating art, it certainly was for us this June. What a circus. What a clown... and what a Strong Man Act! What a fabulous night, apologies for the lateness of posting an update on this night. Life seemed to get in the way of my sketching fun for a while... but we're back now and very excited about the upcoming events from Dr. Sketchy's North Wales & Chester and if you dont believe us check out our
Facebook
page! More Circus pictures over at the
Dr. Sketchy's Anti-Art School, Flickr Page
We just LOVED Velma Von Bon Bon (our sexy Monkey Girl act + poses) Mister Improbable (my right hand guy!) and Fallen Acrobat herself ~ Prism. Thanks so much to all who attended - and Mr G Davies for taking over as DJ for the night!
RSS
NYC Events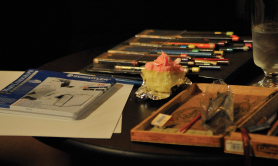 Art Tumblr