Branch Blog - Charleston, West Virginia
Fri, April 08, 2011 • Shooting up a speakeasy near you!
Come down to the
Kanawha Player
's association to see Penny Maple and Elle Xombeah bring Bonnie and Clyde back to life. Mostly, anyway. This time we're going to be able to let the 18+ crowd in. As before, bring your own art supplies, but 21+ can bring their own beer. We're looking for beginners and art stars alike to join us. Compete in contests for delicious candy. Got 8 bucks and a sketchbook? Meet me at 309 Beauregard St. on April 17th at 6:30pm.
RSS
NYC Events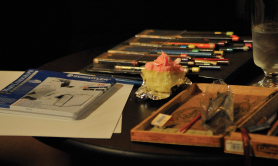 Art Tumblr
https://vimeo.com/81362468