Sat, January 14, 2012 • Sideshow avec/with Blanche Neige
Session #54 - Sideshow
Dr. Sketchy Montréal vous invite à son lancement de 2012 : Sideshow! Venez dessiner la mystérieuse Blanche Neige, qui posera pour nous dans des costumes inspirés des "sideshows"! Ne manquez pas ces trois heures de dessin et bizarreries!
La séance aura lieu samedi, le 28 janvier, de 14:00h à 17:00h au fabuleux Théâtre MainLine, 3997, boul. St-Laurent. L'entrée sera de 10 $ et n'oubliez pas votre cahier à dessin!
Fait intéressant : La couleur de cheveux de la succulente Blanche Neige est toujours une surprise!
***
Dr. Sketchy Montreal invites you to its 2012 launch session: Sideshow! Come draw the mysterious Blanche Neige, who will be posing in costumes inspired by sideshows! Don't miss these three hours of sketching and oddities!
The session will take place on Saturday, January 28, from 2:00 to 5:00 PM at the fabulous MainLine Theatre, 3997 St-Laurent Blvd. The cover will be $10 and don't forget your sketchbook!
Fun fact: The succulent Blanche Neige's haircolour is always a surprise!
***
Commandité par / Sponsored by
Kitsch'n Swell - kitschnswell.ca
Baby Tattoo - www.babytattoo.com
RSS
NYC Events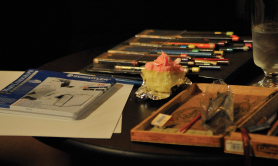 Art Tumblr
https://vimeo.com/81362468