Branch Blog - Christchurch, New Zealand
Sun, December 18, 2011 • Simmering Summer Debut
For us antipodeans; December is a month held dear for reasons far beyond gift exchanging, tinsel and Christmas trees. It heralds our long awaited summer! Hemlines rise, flesh is bared (sans-goosebumps) and beer becomes even MORE palatable.
To usher in the new season (and lead by example) Honey Van Hooch shon on our stage. She was a luscious, langorous and golden muse for our art monkeys to sketch rhapsodically. With a tipsy nod to some particular artistic forebears, Honey sashayed in summer with a bohemian feel - all curves, swish and style.
Tawdry, turban askew, maintained the essential levels of libertinism...
Honey Van Hooch's burlesque debut was a knock-out *swoon!*
Sultry and flirtatious, Honey serenaded us with her rendition of Kiss Me.
Laid back... we just need some gin and juice. Or is it absinthe and chianti?
Paige turner - paparrazzi and prize-picture-picker! The winner was a lucky recipitent of a Baby Tattoo book! Rosie Reckless played relatively-respeonsible and hosted the nights proceedings - hostess with the most-ess!
Our summer lovin' group pose. No bohemian event is complete without a little saucy sift-sharing, surely?
Tawdry wraps her tongue around suggestive syllables in an attempt to procure some Hoochy. Honey is titillated, but not so easily persuaded.
For her second performance, Honey removed some layers - elevating the temperature of the room to hot hot hot!
Honey Van Hooch - what a debut!
Honey can be our golden girl, anytime!
Too Much(a) art geekery?
With assets like these, why would one ever wear clothes?!
Our final session of the year finished us us all well warmed up and gasping for more Hoochy hawtness. Stay tuned to see more of this bombshell in the future!
We'll be taking a break over the silly season; but the crew will be back and rearing to go with more sketchy shenanigans for 2012. The Sketchy girls of Christchurch would like to extend an enormous thankyou to our art monkeys for dressing up, showing up, supporting us and our array of beautiful performers and being generally awesome. You've helped justify Tawdry's ridiculous costume collection, Rosie's deviant design work and Paige's predilection for photographs of gorgeous bottoms for yet another year!
We'd like to thank our wonderful sponsors for keeping us rolling in brilliant prizes:
Absolution Tattoo and Body Piercing: for delicious ink and shiny sharp things to adorn ourselves with.
Madame Butterfly's Vintage Style Boutique: keep us and our art monkeys sassy and sexy in gorgeous vintage clothing.
Gordon Harris Art Supplies: ensure we keep on sketching in multudinous mediums (not just perving).
And last but certainly not least - our international sponsor: Baby Tattoo Books, who supply us with stunning publications that need to be pried out of our grabby hands at each event.
RSS
NYC Events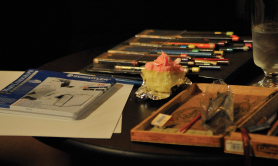 Art Tumblr
Dr Sketchy LA 12-3-13
http://drsketchy.tumblr.com/post/69027079376