Branch Blog - Christchurch, New Zealand
Wed, May 22, 2013 • Smash Palace Hotties
Our Biker Babes pop up sketchy's was a rev-roaring success. Art monkeys filled the bus at Smash Palace and proceeded to sketch up a storm as Tawdry and Juju posed with sneers, snarls and sass.
Our ar(s)tsy antics were met with much interest and admiration from those less accustomed to our escapades
All aboard the babe bus! Art monkeys packed the bus for a tootin' good time.
Rosie Reckless fronted our gang of biker babes and made sure the night was conducted with due rowdiness.
Bikes, Beer, Babes and Bad Attitudes.
Safety first! Close quarters led to some unusual poses and interesting angles.
There were biker babes of the bearded variety at the bar on the night. Juju and Tawdry made use of a couple of bike night regulars from the Quake City Rumblers as posing props.
There was always going to be plenty of cheek from these gals!
Tawdry showed us all one of her hidden talents - levit(it)ation!
The audience was truly captivated by Juju!
For our final poses we spilled outside and took over the bar! Art monkeys lined the decking to sketch our brave models in the autumnal air.
The bar staff made sure there were some hotties for our, er... hotties post-posing.With their second winter on the way, Smash Palace have stocked up on hot water bottles, blankets and outdoor heaters, as well as their famous mulled cider to banish the winter blues.
The long arm of the law stopped by to make sure we were keeping our scandalous antics legal. Being both badass AND smokin' hot is probably illegal somewhere, but not in our town (yet).
We really enjoyed being reunited with Johnny and the crew from Smash Palace; it brought back memoriesof old times at Goodbye Blue Monday and reminded us of how far we've come since the early days! Our presence at the bar garnered a lot of interest and excitement from those unfamiliar with Dr. Sketchy's - we'll be expecting a few new faces at our next event.
As always, our sponsors have been key in keeping us supported with goodies! Many thanks to Absolution Tatto and Pierce, Madam Butterfly's Vintage Style Boutique, Gordon Harris art supplies and our international sponsor Baby Tattoo Books.
RSS
NYC Events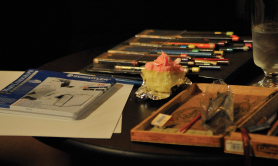 Art Tumblr
https://vimeo.com/81362468