Fri, October 07, 2011 • "Speakeasy of Terror" with Melissa Bang Bang and Mr. Deadguy
Order tickets via Eventbrite:
http://www.eventbrite.com/event/2145487210/efbevent
Join Dr.Sketchy's Philadelphia at our new venue, The Little Bar for an evening of glamor, gore and the scariest puppets in Philadelphia! The libations will be flowing and the kitchen offers a full menu until the witching hour. Bring your own art supplies and get ready to draw! Special Guests and a mulitude of monsters!
Melissa Bang Bang one of the finest classic burlesque performers in Philadelphia! This raven haired beauty will make your jaw drop with her endless legs and stunning beauty.
Mr.Deadguy aka "The Daper Cadaver" comes with an arsenal of creepy puppets such as Baby Cheezewits, Icky, Scabby Hansen the leper boy...and more!
Message [email protected] for a password to get a discount at the door!!
RSS
NYC Events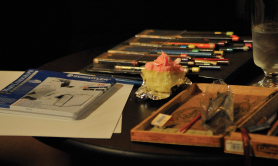 Art Tumblr