Branch Blog - Christchurch, New Zealand
Sun, September 18, 2011 • Sports: Illustrated
For September we couldn't help but succumb to the Rugby World Cup fever pervading our antipodean nation. The bats, balls and boxes were out in force for our sports themed session starring Henry Flower - the stamen with stamina!
MC Hells Belle kept us all in line with a whistle round her neck and red cards at the ready. Our art monkeys came dressed in scrum-ptious sporting attire - from a kick boxing femme fatale to a sweetheart cheerleader and a Hufflepuff quiddich player; while our paparazzi Paige Turner moonlighted as Penis Williams.
Warm up sketches ensured no strains or sprains as Henry flexed into fine form for our audience.
The first performance certainly warmed us up! With a bend and flourish it was off with the track pants and on with the show!
Hardly hokey; this champion model was worth his weight in gold.
For our embellishment competition, we asked our art monkeys to add a tabloid title to a pose... but Mr Flower had a posy of fans determinedly going up against any slander.
Not all brawn - our Henry's a thinker as well.
Rosie Reckless maintained half time tradition - toting a bag full of orange quarters to re-invigorate the team for more sketching on the sidelines.
There was even a spot of badminton; but the shuttlecock seems to have been censored!
Tawdry came in left of field and went in for a no holds barred pose.
A special award was given out for the man sporting the Biggest Beard. Any year now that sport's going to be an Olympic one - you heard it here first!
Henry's aerobic endeavors in the second performance had our hearts aflutter!
Sumo-stache!
Henry got his game face on and flashed us a winning grin.
Our Stamen with Stamina was the man of the match, but sketching was the winner on the night. September's sporting shenanigans was made possible and infinitely more prize-laden by our glorious sponsors: Absolution Tattoo and Body Piercing, Madame Butterfly's Vintage Style Boutique, Gordon Harris Art Supplies and our international sponsor Baby Tattoo Books.
For more photos documenting our exploits - have a look at our Facebook album!
RSS
NYC Events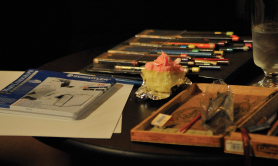 Art Tumblr
https://vimeo.com/81362468