Thu, June 20, 2013 • Statuesque
Nous avons eu le plaisir de retourner au Festival Fringe de Montréal pour une 6e année de suite! L'événement a eu lieu le 17 juin et notre jolie modèle fut Sucre à la Crème qui posa pour nous en statue, peinturée par le talentueux Vladimir Cara.
***
We had the great pleasure of returning to the Montreal Fringe Festival for a 6th year in a row! Our event was held on June 17 and our lovely model was Sucre à la Crème who posed as a statue, bodypainted by the talented Vladimir Cara.
Pour visionner le blogue complet de la session, visitez : Dr. Sketchy Montréal
***
To view the full session blog, visit: Dr. Sketchy Montreal
RSS
NYC Events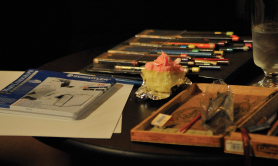 Art Tumblr