Branch Blog - Millville, NJ 08332
Sun, July 18, 2010 • Summer Hiatus - Anything But!!!
In May we told our Monkeys we would be taking a summer hiatus until September, and its been anything but!!! We kicked off June by having our first ever gallery showing. Brenner's Brew in Bridgeton invited us to show for the whole month. The pieces submitted by the monkeys were outstanding and the reception during First Friday was amazing. The whole event was more than we had ever imagined. The popularity of the Bridgeton show made its way back to Millville, where we took over 3 venues for a July showing. Third Friday for July was just this past weekend and what a blast. I don't know who is having more fun, me, the viewers or the monkeys! We are also currently working on our very own branch tshirts (jump over to our facebook page to get your vote in!) and a fall schedule that should be spectacular! We can't wait to unveil more details, so stay tuned!!!
RSS
NYC Events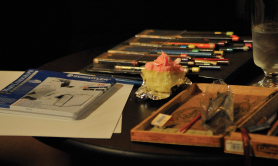 Art Tumblr
The results of tonight's Dr Sketchy's session :D
http://drsketchy.tumblr.com/post/69489605480