Branch Blog - San Francisco, CA
Sun, November 21, 2010 • Talia packed the house last Tuesday!
Our November session with Talia was packed with Honk Honk goodness.
The only seats left by the time we started were on the floor and on the bar!
Shhh, Talia has a secret!
And a mustache!
And she went boot fishing...
One of my favorite poses from the night:
Sometimes we poke the dimples of our contest winners, because we can't help ourselves.
To see more of Johnny Crash's thexy photos, clicky here:
http://www.flickr.com/photos/johnnycrashphotography/sets/72157625014983078/
To see drawings, check out the flickr group:
http://www.flickr.com/groups/drsketchyssf/
Thanks to our sponsors,
Baby Tattoo Books
and
Utrecht Art Supplies
xoxo, Alice and Diane
RSS
NYC Events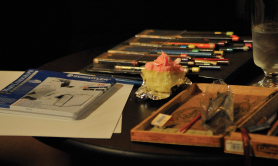 Art Tumblr
The results of tonight's Dr Sketchy's session :D
http://drsketchy.tumblr.com/post/69489605480