Branch Blog - Christchurch, New Zealand
Thu, July 07, 2011 • Talk Nerdy To Me
It was a night of drinking, drawing, dorks and dweebs as Dr Sketchy's once again descended upon the local Bowling Club for a theme very close to our hearts – Talk Nerdy to Me.
Our stars for the evening were the delectable Princess Pi and Ernest Member; our hypothesis proved correct and they had us enthralled with their chemistry and hilarity on stage.
Lab coats were in abundance and there was plenty of plaid as our art monkeys were welcomed by the nerdilicious Rosie Reckless
.
Bizarre love triangle.
A cute angle.
Tawdry offered both touch typing temptation and tripping hazards!
Princess Pi showed she had algorythm and removed her algebra!
Ernest's attempts to resist Pi's SUPERb nerdiness were futile.
Art monkeys sketched keenly.
Our audience designed covers for various text books that Ernest and Pi may have needed.
Ernest's bringin' Sixties back. Stylophones: Sexy
Full frontal nerdity!
Ernest played both keyboard and stylophone in order to find the courage to invite Princess Pi over for a seductive game of Boggle.
Ernest may have miscalculated the result of this social experiment...
Another night of succesful sketching and far too many geeky in-jokes left us all grinning as usual. A mega thanks to our wonderful photographers, Ryan Franicevic and Paige Turner, and of course our wonderful sponsors (you keep our drives hard): Absolution Tattoo and Body Piercing, Madam Butterfly's Vintage Style Boutique and our international sponsor Baby Tattoo Books. For further photos extrapolating this session, examine our Facebook album!
RSS
NYC Events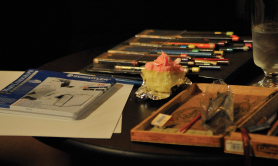 Art Tumblr
https://vimeo.com/81362468