Branch Blog - Millville, NJ 08332
Tue, September 14, 2010 • Thank You Satangela!
We here at the South Jersey Branch would like to thank Satangela for being our model this past Saturday. This was the first time we got to work with her and she did not disappoint! Her poses were well thought out and sexy. She really knew how to work a pose and get the most out of the slightest of gestures. Her outfits were amazing - even though she decided to forgo some clothing in order to be comfy for her 20 minute pose. I don't think anyone was complaining though:) Satangela is just one gorgeous lady and we can't wait to work with her again. Our monkeys had a great time and we saw some new faces which is always nice. To top it off, one of our new attendees won the model's choice of the night, so congrats to Josh. We hope you enjoy your book donated by our sponsor Baby Tattoo books. We now can't wait for our October sessions! Yes, you read that right! Sessions...as in plural! We will be holding our regular session on Sunday, October 3rd at The Artists Consortium in Millville and we will also be partaking in the Swedesboro Jazz Festival on October 16th. More info will follow, so stay tuned!
RSS
NYC Events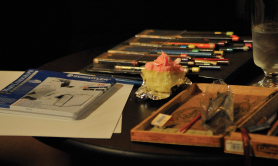 Art Tumblr
Dr Sketchy's LA 12/3/13 (pt. 1)
artofach.blogspot.com
http://drsketchy.tumblr.com/post/69132640329