Branch Blog - Millville, NJ 08332
Wed, October 06, 2010 • Thanks to Miss Key!
It was cold and rainy outside, but Miss Key brightened up our day!!!! Miss Key, of Philly's own Peek-A-Boo Revue graciously modeled for us for our October session and she was amazing! Her outfits were stunning and her poses were fun. We were delighted to be able to feature someone from such a well-know troupe and can't thank her enough for coming all the way down to our little town for the day. We always try to make our models as comfy as possible. If we can, we bring additional props or anything else that will make their job easier. We know we wouldn't want to be up there and to hold a pose for even a few seconds is too much for our ADD riddled minds! So, one of the best parts of our venue is the fact that we share space with an antiques store. You never know what the models are going to walk out with for their next pose. It was much to our surprise to see one of our monkey's stuffed monkey make an appearance. It was whimsical, it was funny and it was something to behold. I think the monkey was bigger than the model and boy did he look happy sitting on her lap...but then again, so would I:) We may be a small branch, but we pack a wallop when it comes to the caliber of our models. And for the month of October, Miss Key didn't disappoint...if anything, she just raised the bar higher. Good thing we have Lyra Kelli next month! So, if you want something fun to do and think NJ doesn't have much to offer, then you need to check us out!
RSS
NYC Events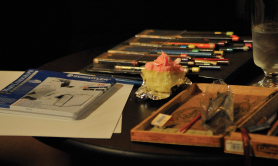 Art Tumblr
https://vimeo.com/81362468