Branch Blog - Christchurch, New Zealand
Mon, April 25, 2011 • The Aftershock
It's been just over two months since our city was hit by a devastating earthquake. Although smaller in magnitude than our 2010 quake, the 22 February 2011 6.3 magnitude earthquake was more damaging and deadly. The shallowness and and proximity of the epicenter meant the intensity and violence of the ground shaking was amongst the strongest ever recorded globally in an urban area. This tragedy has taken lives, homes and livelihoods. Our once beautiful city is a shambles, with many areas still cordoned off and will be for months to come. The Christchurch branch of Dr. Sketchy's Anti-Art School has naturally been on hold. Each of us has taken the time to put in whatever efforts we can, and to grieve, repair and regroup. We're most definitely committed to getting back up and running. Slowly there has been a build up of gatherings to enjoy around our city – events, fun-fairs, music and creative happenings. Dr. Sketchy's nights will return to be a part of it all. Surely nothing fixes earthquake fatigue like a night of drinking, drawing and dames! It's with much sorrow that we farewell our beloved venue Goodbye Blue Monday. The bar suffered serious damage and won't be reopening. This wasn't just our venue for Dr. Sketchy's nights each month - it was also our regular haunt for drinking and carousing. Johnny's written some raw and moving updates after the quake –
check out the GBM blog here
. It's likely that our next few events will hop around various venues in different parts of the city. Feel free to send in your suggestions if you know of a suitable bar that's open-minded enough to handle our antics! Keep your eyes peeled this week for our first event announcement. We'll be going ahead with "Date Night Jitters" starring Harlowe Lestrange, which was originally scheduled for the week of the quake. If you had tickets for the event on February 24 please seek a refund via
Cosmic Ticketing
. We love our sponsors and encourage all our Art Monkeys to show them your support. Here's an update:
Absolution Tattoo & Body Piercing
– OPEN in a new location in the 'burbs at 45 Nancy Ave, Mairehau.
Madam Butterfly's Vintage Style Boutique
– OPEN in the same sweet spot at 330 Stanmore Road.
The Flying Burrito Brothers
– Closed till the central city cordon lifts - FBB's building is structurally all ok so we just have to be patient for our tasty burritos and tequila fix. Thanks to all the sketchy friends and art monkeys around the world for your love and support. xoxoxo Love from the Sketchy Girls of Christchurch
RSS
NYC Events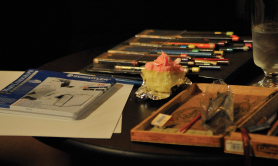 Art Tumblr
Dr Sketchy LA 12-3-13
http://drsketchy.tumblr.com/post/69027079376