Branch Blog - Charleston, West Virginia
Fri, April 13, 2012 • The Charleston Branch's First Birthday Documented!
The Charleston, WV has been going strong for over a year now! We haven't even been tarred and feathered. Not once! So there's a ton of new things to look forward to in the next year. For example, our next session The Beach Blanket Blood Bath! Check out these pictures from our last session. As well as moving pictures and see all the fun we're having.
RSS
NYC Events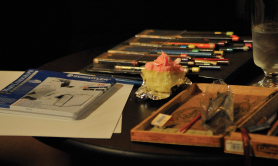 Art Tumblr
Dr Sketchy's LA 12/3/13 (pt. 1)
artofach.blogspot.com
http://drsketchy.tumblr.com/post/69132640329