Branch Blog - Charleston, West Virginia
Wed, July 13, 2011 • The City Became a Work of Art
On June 19, we held our tribute to
Festivall
, Charleston's city-wide art festival. It was such a great turnout with so many new faces! Sarkany and Suzy Sketchman dazzled the audience with their harlequin costumes and captivated the audience with Festivall themed games. A night of dames, drinking, drawing, and wiener dog races. More pictures below.
Suzy and Sarkany started strong in the one minute poses.
The first contest of the evening was a version of Musical Easels. Musical Easels is a Festivall game where four artists start on separate canvases outside and trade as the music stops. We played our own version with artists at a single table trading art supplies and the winning table took home beads and boas courtesy of Mardis Gras Casino.
Then Suzy and Sarkany went better on the wiener dog races.
We moved on to longer poses and the next contest.
The next contest was a "continuous drawing". The artists were not allowed to remove the pencil from the paper during the pose. The winner took home a copy of Dr. Sketchy's Rainy Day Activity Book.
Sarkany held this for our first twenty minute pose. Keep the applause coming.
And Suzy and Sarkany kept up the pace with the final twenty minute poses.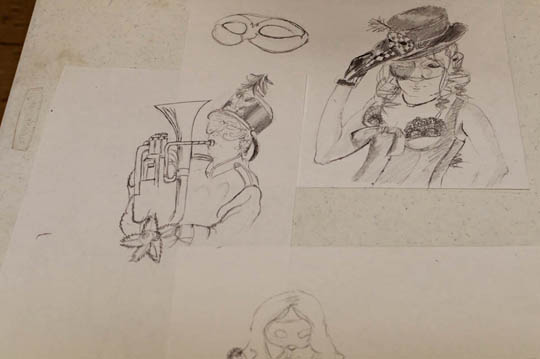 Our last contest was a portfolio challenge of everything drawn that night. The winner took home a free night pass to Mardis Gras Casion and Resort! Once again, I can't thank
Sarkany
and Suzy enough for modeling;
Kanawha Player
's for letting us use their space;
Pepper Fandango
for her DJ stylings.
Mardis Gras Casion and Resort
for their support; And course, all the new and old faces! Missed out?
Come by July 17th
(this Sunday) to Kanawha Player's for another night of dames, drinking and drawing! Featuring Cait Cool and Sarah Lane from the Jewel City Roller Girls!
RSS
NYC Events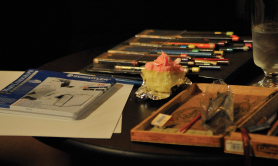 Art Tumblr
https://vimeo.com/81362468