Tue, November 29, 2011 • The long goodbye
When the amazing Molly Crabapple inspired me to start Sketchy's in Denver in 2007, I was excited about the possibilities- what amazing art would come from linking the Denver art community to the Denver performing community. As both an art school girl and a burlesque performer I loved the idea of introducing artists to models a bit (or a lot) different from the models from traditional life drawing classes. Models who used their performances to inform their poses, who used costumes to create characters for the artists to draw, and brought color, both physical and emotional to their modelling.
After five years and five venues (Lannie's Clocktower, The Pink Elephant Room, The Ubisububi Room, KBDI Studios, Illiterate Art Gallery) and 50 models, it's time for me to pass on the torch.
When I announced that I was ready to move on and was looking for someone to take over, I definitely had it in the back of my mind that if I didn't find the ideal caretaker for my baby, I would hold on until I did. Luckily Brendan and Ellie (aka Dr. B. Zurk and Madame Madness) of Mad Tatters, a couple who have creative energy shining out of their pores, stepped up, and it couldn't be a better fit.
For at least a while they'll be continuing on with the 3rd Sunday sessions at Illiterate, but they have big, wild plans to expand and add sessions, to include Sketchy's as part of their events and to grow Sketchy's in a way that I always hoped it could.
I'll host two more sessions, December and January. January 15th will be my last session- coming around full circle to have Miss Orchid Mei, the model for the very first Sketchy's Denver in February of '07, pose for my last Sketchy's. Then on February 19th I'll introduce the Mad Tatters for their very first Sketchy's at Illiterate and have a bit of a celebration party for the changeover.
It's been a beautiful, wacky ride and I thank all the gorgeous models, amazing artists, incredible venues and my lovely Art Helper-Monkeys, Eli and Margot.
Love, Vivienne
RSS
NYC Events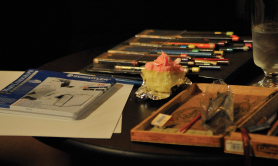 Art Tumblr