Branch Blog - Salt Lake City, UT
Mon, June 13, 2011 • The Trashy Sketchy Life Drawing Spectacular
Our June event is comin' up fast, and it's sure to be a great one!
This time around we'll be featuring local musicians Allison Martin and Dago Marino of
My Dead Ego
and
The Last Look
who will be modeling in their dirtiest animal prints and neons and cut-offs to create an 80's drawing experience like nothing that's been done before! There will be the usual drawing contests, with my new and improved constantly evolving voting system, and some NEW and awesome prizes! As a special treat we will also have LIVE MUSIC by Alison and Dago and their band after the drawing part of the show, which we've never done before! It's should be a fabulously trashy (perhaps even a bit offensive, not gonna lie) party! ***In the last post I mentioned that one of our sponsors,
SLUG mag
, gave Sketchy's SLC a major shout-out, and if you want to see the article in all its glory, it can be found
here
. Thanks Princess Kennedy!
RSS
NYC Events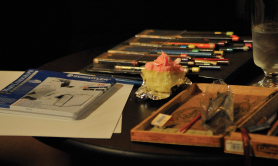 Art Tumblr
Alvin Black III
Frosty's going to melt…at Jingle Belle, Dr Sketchy Chicago Branch
Model: Rhonda Vous

my work on facebook: https://www.facebook.com/AlvinthethirdPainting
http://drsketchy.tumblr.com/post/70620589200