Branch Blog - Christchurch, New Zealand
Wed, July 07, 2010 • THEY CAME FROM OUTER SPACE … to draw our women!
THEY CAME FROM OUTER SPACE … to draw our women!
SEE sights too weird to imagine! DRAW space sirens from lawless galaxies! DRINK at the astounding Goodbye Blue Monday! WIN out of this world prizes!
Presented to you in the BLAZING colours of yesterday's future. Join Spacey Gracie Hart on an intergalactic romp. Our sexy space ranger will be up against aliens, robots and unspeakable horrors from the depths of space and time. Will she be enslaved by tentacled artists? Will you journey to the nearby planetoid of Goodbye Blue Monday to sketch her? Will you show your devotion to MC Hells Belle with gifts of whiskey (with coke. Make it a double.)? Robots, astronauts, aliens, mad scientists, fembots and other mind boggling creatures all welcome – we encourage dress ups. Remember to pack your drawing materials in your jet pack. Engage in bizarro contests to win amazing prizes from our sponsors: Madam Butterfly's Vintage Style Boutique, Absolution and The Flying Burrito Brothers. Pre-sale tickets are $10 and will be available from Cosmic Corner High Street and online via
http://www.cosmicticketing.co.nz
. We would like to advise there is no photography at this event. Capture all the fantastical sights with drawing only.
Thursday 22 July, 2010 at Goodbye Blue Monday. Doors from 6.30pm. First pose 7.30pm.
This event has now passed. Look for the photographic evidence of this spectacular event on our photo blog.
RSS
NYC Events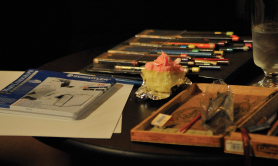 Art Tumblr
Dr Sketchy's LA 12/3/13 (pt. 1)
artofach.blogspot.com
http://drsketchy.tumblr.com/post/69132640329