Branch Blog - North Wales
Mon, December 12, 2011 • Tits the Most Wonderful Time of the YEAR!
As we draw near to our last class for 2011 we wanted to share with you our sparkle Tassel T-shirts, exclusively made by us at Dr. Sketchy's North Wales & sister branch Chester :D
They are available to buy online now at www.drsketchynorthwales.co.uk
If you're coming to the event this Friday 16th December we are offering a reduced price on sales and orders!
Would be great to see you at Saronies at The Scala, Prestatyn as we join Ivy Wilde & Angel T'Lite on our wintery wonderland setting!
View the event on facebook -> I've been an awful good girl.
Doors: 7:30pm
See you there and a happy festive season to you all my lovely Dr. Sketchy chums!!
(T-shirt model: Sukki Singapora)
RSS
NYC Events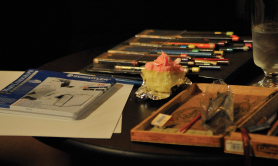 Art Tumblr
https://vimeo.com/81362468