Branch Blog - San Francisco, CA
Mon, April 18, 2011 • Tomorrow night we draw the Sisters of Perpetual Indulgence!
Dr Sketchy's Anti Art School: San Francisco presents The Sisters of Perpetual Indulgence!
The Sisters of Perpetual Indulgence® is a leading-edge Order of queer nuns. Since our first appearance in San Francisco on Easter Sunday, 1979, the Sisters have devoted ourselves to community service, ministry and outreach to those on the edges, and to promoting human rights, respect for diversity and spiritual enlightenment. We believe all people have a right to express their unique joy and beauty and we use humor and irreverent wit to expose the forces of bigotry, complacency and guilt that chain the human spirit.
All profits from this event will be donated to the Sisters for their good works with the community.
--------------- Tuesday March 22nd, 2011 7pm-10pm 21+ $12 general admission. $10 students/teachers 111 Minna Gallery, 111 Minna St, SF
http://www.drsketchyssf.com
Please note that we are raising our admission prices. If this makes it difficult for you to attend, contact us regarding volunteer opportunities. --------------- Please visit our fine sponsors: Baby Tattoo Books
http://www.babytattoo.com
Utrecht Art Supplies
http://www.utrechtart.com
What Katie Did Lingerie:
http://www.whatkatiedid.us.com
RSS
NYC Events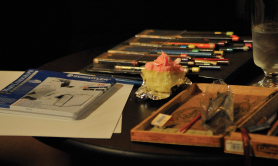 Art Tumblr
Dr Sketchy's LA 12/3/13 (pt. 1)
artofach.blogspot.com
http://drsketchy.tumblr.com/post/69132640329