Branch Blog - Salt Lake City, UT
Thu, July 07, 2011 • Tremendously Trashy
Our June event was a hit!
Our models were local SLC rock stars Allison Martin and Dago Marino of the electronic dance band
My Dead Ego
(do yourself a favor and listen to their new EP for
free
on their Facebook page!) and
The Last Look
, local alt. country indie rock band. Our theme was "trashy 80's pop music wanabee", and I think we pinned that down perfectly! With Allison starting the night as the prego, cigarette smoking, leggings wearing vamp...
...and ending as a Madonna/Pat Benatar/Marla Singer character in a black crinoline tutu and Chucks. Her partner in crime, Dago, rocked some pretty bold denim cutoffs, a greasy mullet and matching porn 'stache, and the obligatory chunky measuring tape ("haven't you noticed that rednecks always carry around measuring tapes on their belts?").
We were lucky to have our favorite local photographer,
Devin Jordan
, stop by to take some stunning pictures (see tons of his work
here
), like this:
We gave away some rockin' prizes from
Baby Tattoo Books
and
The Hive Gallery
. As always, our home turf
Bar Deluxe
was fabulous, and our favorite underground literary genius,
SLUG Magazine
, was ever-so-peachy. All in all, it was a screaming success! See
all the pics
at the "Photos" section of our blog, and just you wait to see what we're cookin' up for next month! It smells spicy...
RSS
NYC Events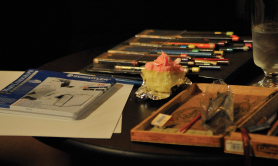 Art Tumblr
https://vimeo.com/81362468