Thu, October 07, 2010 • Encore plus de Spectacular! / Even more Spectacular!
Si vous avez aimé notre blogue sur Spectacular! avec BonBon Bombay, je vous invite à voir un blogue préparé sur cet événement par la photographe Reagan Alexander :
cliquer ici
! *** If you enjoyed our blog about Spectacular! with BonBon Bombay, be sure to check out a blog posting about this event by photographer Reagan Alexander:
click here
!
RSS
NYC Events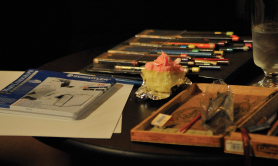 Art Tumblr
Dr Sketchy's LA 12/3/13 (pt. 1)
artofach.blogspot.com
http://drsketchy.tumblr.com/post/69132640329