Branch Blog - North Wales
Thu, May 17, 2012 • We All Dream of Jeannie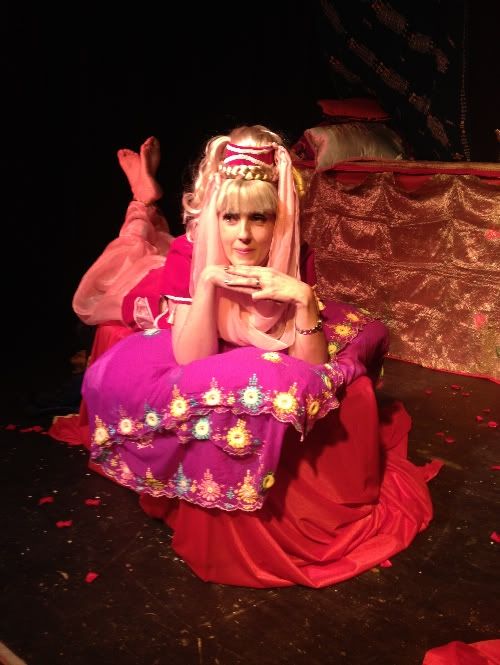 We had a fabulous time in North Wales last month at our night with 60s sitcom icon - Jeannie from I dream of Jeannie!
You were a small but beautifully formed class, extremely "in the zone" We had sparkly pink butter icing cakes, snippets and soundbites from the show, costume was made by main sponsor - Extinct Design - costumes and vintage are available to buy at www.extinctdesign.co.uk
We were treated to an ethereal performance from Sukki Singapora who joined us as our 2nd model for the night. Definately will be seeing more of her in the future - so many comments about how wonderful she was to draw!
Also I received the most lovely feedback and thought it deserved special attention as it's exactly how I feel about Dr. Sketchy's and why I was so excited to become a Branch Director for not one but two lovely branches!!
"Hi Heather,
I missed the boat a bit with posting on Dr. Sketchy's about Thursday night but I just wanted to let you know that I think its pretty awesome and its been a massive kick up the ar*e for me creatively . I assumed it was just a gig for professional artists like the very talented Jonny and Aly until I investigated and was ecstatic to find that it wasn't.
I'm a character animator. I've been lifedrawing for 25 years with all sorts of models in all sorts of locations and I have to say I have never had so much fun drawing or drawn anything half as interesting as what at I do at Dr. Sketchy's. I've been waiting for something like this for a long time and you've reminded me of what it was all about, all those years ago as a young art student. The ladies on Thursday were awesome with their enthusiasm, ideas and poses and I was pretty mesmerised by Sukki Singapora and those rose petals. ...and the colours, the joss sticks, I loved the music, ...and the chocolate and the cake...and the... anyway I just wanted to say thanks. Kurste"
Brilliant stuff!
Also must mention a HUGE thank you to a new collaborative partner ~ Creative Factory who took the photos from the night!
Thanks to all who continue to support us at Dr. Sketchy's Anti-Art School, North Wales
RSS
NYC Events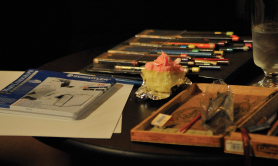 Art Tumblr