Sun, May 29, 2011 • We Can Do It!
Notre séance du 28 mai fut un vrai régal! Notre muse, la magnifique
Seska Lee
, nous a transportés vers les années 40, au temps de la Second Guerre Mondiale. Elle commença en costume de « Rosie la riveteuse ». *** Our session of May 28 was a real delight! Our muse, the wonderful
Seska Lee
, transported us back to the 40s, to the times of World War II. She started off in a Rosie the Riveter costume.
Pour visionner le blogue complet de la session, visitez :
Dr. Sketchy Montréal
*** To view the full session blog, visit:
Dr. Sketchy Montreal
RSS
NYC Events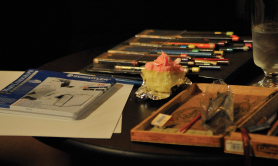 Art Tumblr
The results of tonight's Dr Sketchy's session :D
http://drsketchy.tumblr.com/post/69489605480