Branch Blog - San Francisco, CA
Thu, May 26, 2011 • We fell through a rabbit hole on our bicycles…
On May 17th, we celebrated National Bike month with our 3rd Annual 'Cute Girls (this time with dudes!) on Bicycles. The photos above show Sarah and Steve trackstanding while we furiously attempted to capture their glory.
Kristen, her outfit styled by Gwendolyn Lutz of
Pedal Savvy
, brought a very Gil Elvgren pin up flare to her poses. Gwen designed her rain cape and fabulous dress!
Last Saturday, Bee took us on a trip to Wonderland where we drew Alice and the Queen of Hearts.
All photos by the fabulous
Johnny Crash
. Join our guest hosts in June for some exciting drawrring. Details:
www.drsketchyssf.com
xoxo, Alice
RSS
NYC Events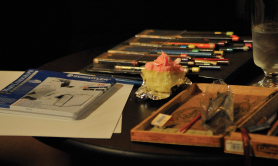 Art Tumblr
Dr Sketchy LA 12-3-13
http://drsketchy.tumblr.com/post/69027079376