Branch Blog - White River Junction
Fri, July 19, 2013 • We're still here!
It's been a long, hot summer here in the Junc, and Sketchyjunction has taken a break. We nixed the July session (due to historically low turn-out during the summer months) and we'll be restarting on Tuesday, August 27. We aren't exactly sure who the models are going to be, but Miss Phoebe has some great ideas... What we can confirm is that there will be an awesome line-up, great music, cheap drinks, and fun door prizes!
RSS
NYC Events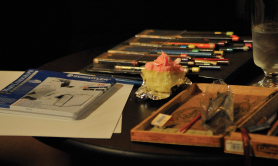 Art Tumblr
https://vimeo.com/81362468