Branch Blog - Charleston, West Virginia
Sat, June 11, 2011 • What about the floor show?
Downhome Decadence
joined us at
Kanawha Player's
theatre to do what they do best, the Rocky Horror Picture Show. Laura Waggoner, Molly Tilly, and Jared Mitchell showed David Smith why you don't go looking for phones in castles. Hopefully, only having Magenta, Columbia, Frankfurter, and Brad won't cause too many fans to push up their nerd glasses.
The first set one minute poses took us through the Time Warp!
In the second set Molly helped David with his wardrobe. It ended with a left handed drawing contest. The prize? A copy of the Rocky Horror Picture Show.
Jared joined Laura for Frank's big entrance.
The players all assemble for Rocky's very awkward birthday dinner for a twenty minute pose.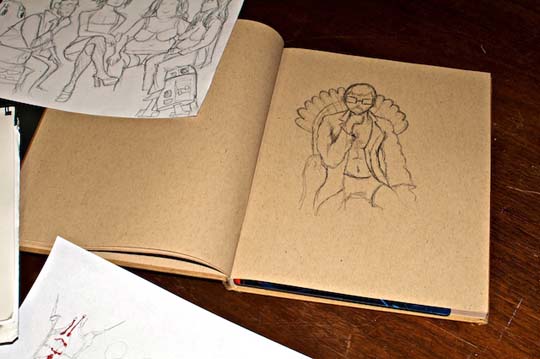 This was also a contest pose for "Science Fiction" double feature. The object was to combine Rocky Horror with another sci-fi series. The winner (for best use of R2-D2 as a seat AND Chairy!) here took away a copy of Dr. Sketchy's Rainy Day Coloring Book.
"I'm going home."
We ramped back up to gesture poses again after the break to capture the fast pace of the Floor Show.
For our final pose of the night was the infamous family portrait. I'd like to thank everyone who came out that night. And course thank
Downhome Decadence
for sparing a few awesome models for one night and once again
Kanawha Players
for hosting us. I hope to see everyone back for June 19th at 7:00pm for
Bare-It-All
, a tribute of
Charleston's Festivall
. And there's more to see in the
photo gallery.
RSS
NYC Events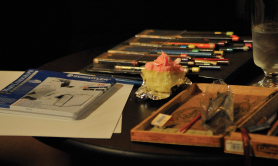 Art Tumblr
Dr Sketchy's LA 12/3/13 (pt. 1)
artofach.blogspot.com
http://drsketchy.tumblr.com/post/69132640329