Branch profile - Auckland, New Zealand
Dr. Sketchy's Auckland
•

Auckland, New Zealand

•

.(JavaScript must be enabled to view this email address)

•

Venue: The Wine Cellar, 183 Karangahape Rd
---
Dr. Sketchy Auckland is run by Leda Petit, one of NZ's premier international burlesque stars, who has been running the Auckland branch for 5 years after taking over from the previous master of ceremonies: Pete Heckman. She is matched by the MC with the tarnished (aka filthy) silver tongue Lilly Loca. It's all rather delightful in a 1920's speakeasy kind of way….
As described on our Facebook page:
Dr Sketchy Auckland's Burlesque anti-art school life drawing sessions, held once a month in the Wine Cellar/Whammy Bar, St Kevin's Arcade.
Fun evening of burlesque girlies & geek-tastic babes in skimpy outfits! Wine and liquor is to be consumed! Enticing art is to be created by the quick fingers of many busy art monkeys.
Experience completely unnecessary, but a sense of cheeky fun a must. Dr. Sketchys will be once a month, $10 on the door (to feed the models).
Dr. Sketchy Auckland is proudly sponsored by Gotham Comics, Artsenal Art Supplies & the Wine Cellar.
Schedule of Upcoming events
RSS
NYC Events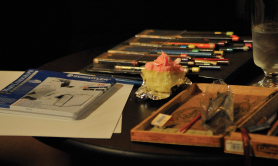 Art Tumblr
https://vimeo.com/81362468