We had our first sculpture artist at the Apocalypse Wow session. She did an amazing job with Incendra Soul's hair!
Sculpture by Beth Ann Weathersbee
I'd like to share these awesome digital sketches by Chris McNeil from my recent turn as model at the Dr. Sketchy's - Charleston, SC session. These images were created on an iPad (no trees were harmed in the making of these sketches) and here in Asheville, NC we appreciate "green" and the...
Read Full Article
Scandalous life drawing returns April 5th with burlesque vixen, Cherry Oh! The gorgeous and statuesque Ms. Oh! is Asheville's gift to classic burlesque. As a member of the highly acclaimed Bootstraps Burlesque and with her current troupe, Blue Skies Burlesque, Cherry's old school glam...
Read Full Article
Dr. Sketchy's - Asheville is back and better than ever! Join us March 1st for our Grand Re-opening event featuring alt model and burlesque vixen extraordinaire Porcelain!
RSS
NYC Events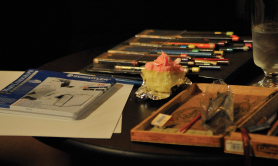 Art Tumblr