Branch Blog - Halifax, Canada
The talented Tyler Burns of OffSet TV came out to the last Dr. Sketchy Halifax event, and did an episode about us. Thanks to all who were interviewed, Nicole, Sasha, and Helena. thanks to Elinor for displaying her lovely artwork, and Aaron for doing all the filming. THANKS OFFSET TV!...
Read Full Article
We had an rockabilly burlesque evening with the super sweet Helena Darling on Aug 22! She wowed us all night with her poses and costuming! Not to mention she was a doll and brought props to die for!! Helena's night was a huge success, and we all had a lot of fun!! Also the talent behind...
Read Full Article
RSS
NYC Events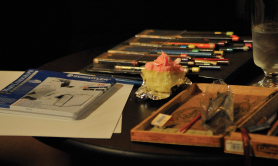 Art Tumblr
Dr Sketchy's LA 12/3/13 (pt. 1)
artofach.blogspot.com
http://drsketchy.tumblr.com/post/69132640329