Branch profile - Norwich, UK
Dr. Sketchy's Norwich
•

Norwich, UK

•

.(JavaScript must be enabled to view this email address)

•

Venue: Norwich, England
---
Ladies and gentlemen… grab your pencils and raise your glasses for Dr. Sketchy's has arrived in Norwich! Dr. Sketchy's was founded by artist extraordinaire, Molly Crabapple, in 2005. Under her guidance a new breed of art class and workshop was created…
Here at Dr. Sketchy's the comforting sounds of pencil scratching paper will be accompanied by laughter and the clinking of glasses. Sometimes it may be accompanied by a jaunty wolf whistle or a sharp intake of breath- depending on what you are about to draw. Pencils at the ready, let the adventure commence, and may it be a glittery, paint splashed, felt tip fountain of an experience!
Dr. Sketchy Norwich is run by the cavort-alicious cabaret wonder, Natalya Umanska.
Schedule of Upcoming events
RSS
NYC Events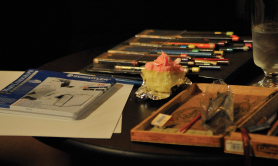 Art Tumblr
Alvin Black III
Frosty's going to melt…at Jingle Belle, Dr Sketchy Chicago Branch
Model: Rhonda Vous

my work on facebook: https://www.facebook.com/AlvinthethirdPainting
http://drsketchy.tumblr.com/post/70620589200